Hardwood floors give your home (or place of business) a warm, cozy vibe by bringing in a touch of nature. It's one thing that makes your house unique.
However, consider the amount of wear and tear they endure. Among the many things that might damage the condition of your lovely flooring are debris, dust, food and drink spills, and pet claws, to name a few.
Properly maintaining and cleaning your hardwood floors is the best way to safeguard your expensive investment. When well cared for, they'll last a lifetime. In this article, we will be discussing some hardwood cleaning tips to keep your floor in tip-top shape.
Let's dive right in.
Sweep And Vacuum
Cleaning hardwood floors, whether made of oak, pine, bamboo, or another type of material, follows a similar process. Find out whether there are any special instructions for your floor by consulting the manufacturer.
When cleaning hardwood floors, the accumulation of dirt and grime can be a huge challenge. Cleaning hardwood floors begin with eliminating dust and other debris that could harm or tarnish the surface. 
Vacuuming and sweeping hardwood floors is an effective cleaning technique, regardless of the material. And by adopting a regular routine, it's easier to maintain the condition of your floor.
Sweep wood floors with a broom every day. You can avoid scratches by using a microfiber dust mop with a pre-applied cleaning agent. Doing this daily may seem like a lot, but it's a good idea. 
Even if you don't allow shoes inside, this doesn't stop dust from accumulating and settling in between planks. This could also be a matter of maintaining hygiene if you have shedding pets at home.
You should vacuum your wooden floor weekly to keep it in good condition. Although it may seem like a tedious chore, it's important to vacuum your home weekly to ensure that any debris and dirt you missed when sweeping doesn't damage your floors. 
Use the "hardwood floor" option on your vacuum cleaner. This disables the brush roll and allows it to work solely on suction. Turning the beater brush off when vacuuming wooden floors helps prevent scratches. Some vacuum cleaners also have wheels made from rubber, which are less likely to scratch or damage your floor than hard plastic ones.
Mop
Cleaning should be done more frequently in heavily used areas, at least once every two weeks. Using a flat mop with a hardwood floor cleaner, as instructed by the manufacturer, is another approach for cleaning hardwood floors.
Wring the mop out as much as possible before using it on hardwood floors to ensure that it is moist rather than soaking wet. Afterward, rinse the mop as needed. 
Never let water sit on the floor since it might degrade the wood, especially for those made from prefinished hardwood. To hasten the drying process, use a microfiber towel or turn on a ceiling fan. You can also clean your floors with disposable wet pads or a spray-and-mop product suited for hardwood.
Steam cleaning hardwood floors is not recommended unless you have a steam mop specifically built for this purpose. Steam can harm and degrade the wood's surface. Other damaging products that you should avoid using include harsh detergents, vinyl floor cleaners, tile cleaners, and homemade hardwood floor cleaners made with vinegar.
Restore
As frustrating as it is, scuffed floors are totally natural. Dealing with dullness and scratches on hardwood floors is part of learning how to clean them. Liquid scratch concealers are a good option for covering up scratches. 
After drying, they create a solid seal that cannot be removed even after a thorough cleaning. Choose a concealer that complements the shade of your floor's finish as closely as possible. Additionally, you can also use touch-up kits, scratch repair kits, and repair kits.
When it comes to rejuvenating and thoroughly cleaning worn floors, nothing beats floor wax. Applying floor wax should always be done in the direction of the wood's grain. However, don't go overboard. 
Try buffing your hardwood floor instead of waxing it if it's looking dull. Wood floor polish can be used to bring back its sheen. As an added benefit, it will shield your floor from abrasions and fill in dents.
If you have a genuine hardwood floor, you should lightly sand and refinish it to bring back the wood's original luster. Reapply a new coat of finish every three to five years to keep your floor in top condition. After that, you should sand and refinish it every ten years.
Protect
Preventing or decreasing wear and tear is one of the most difficult aspects of caring for wood flooring. Here are a few hardwood floor care tips to help you protect it from damage:
Entrance mats: Every time someone enters your home, make sure there is a door mat to wipe their shoes on. Keeping dirt and debris off your flooring is easy if you use mats. Small debris like twigs and tiny rocks can harm wood floors if they aren't collected by floor mats.
Area rugs: Scratches and wear are more likely to occur in areas with heavy foot traffic. An area rug can cover the areas of the floor that are frequently used by people and animals.
Furniture pads: Scrapes left by your furniture can damage hardwood floors. You can protect your floor by placing furniture over a rug. Another option is to wrap the bases of chairs, tables, and sofas with furniture pads.
Furniture sliders: If you're moving a piece of furniture or reorganizing a room, using furniture sliders keeps your floors safe and makes it easy to carry large objects throughout the house.
Clean up spills: In the event of a spill, be sure to clean it up as soon as possible. After that, cleaning and drying the area completely is critical to preventing stains from forming.
The Bottom Line
Maintaining hardwood floors will help keep your property in top condition. To reduce the time it takes to clean and restore your floors, use rugs and entrance mats to keep dirt and scratches at bay. Daily sweeping, weekly vacuuming, and regular mopping are also recommended.
One way to ensure that your hardwood floors remain shiny and pristine is by hiring professionals like us at Carpet DryClean. We not only service carpets, rugs, and upholstery, but hardwood floors too! 
Bring back the luster of your hardwood floor by allowing us to deep clean all the filth and grime that has built up over time. Contact us at (919) 878-0748 to request a service and/or to learn more about our hardwood cleaning services.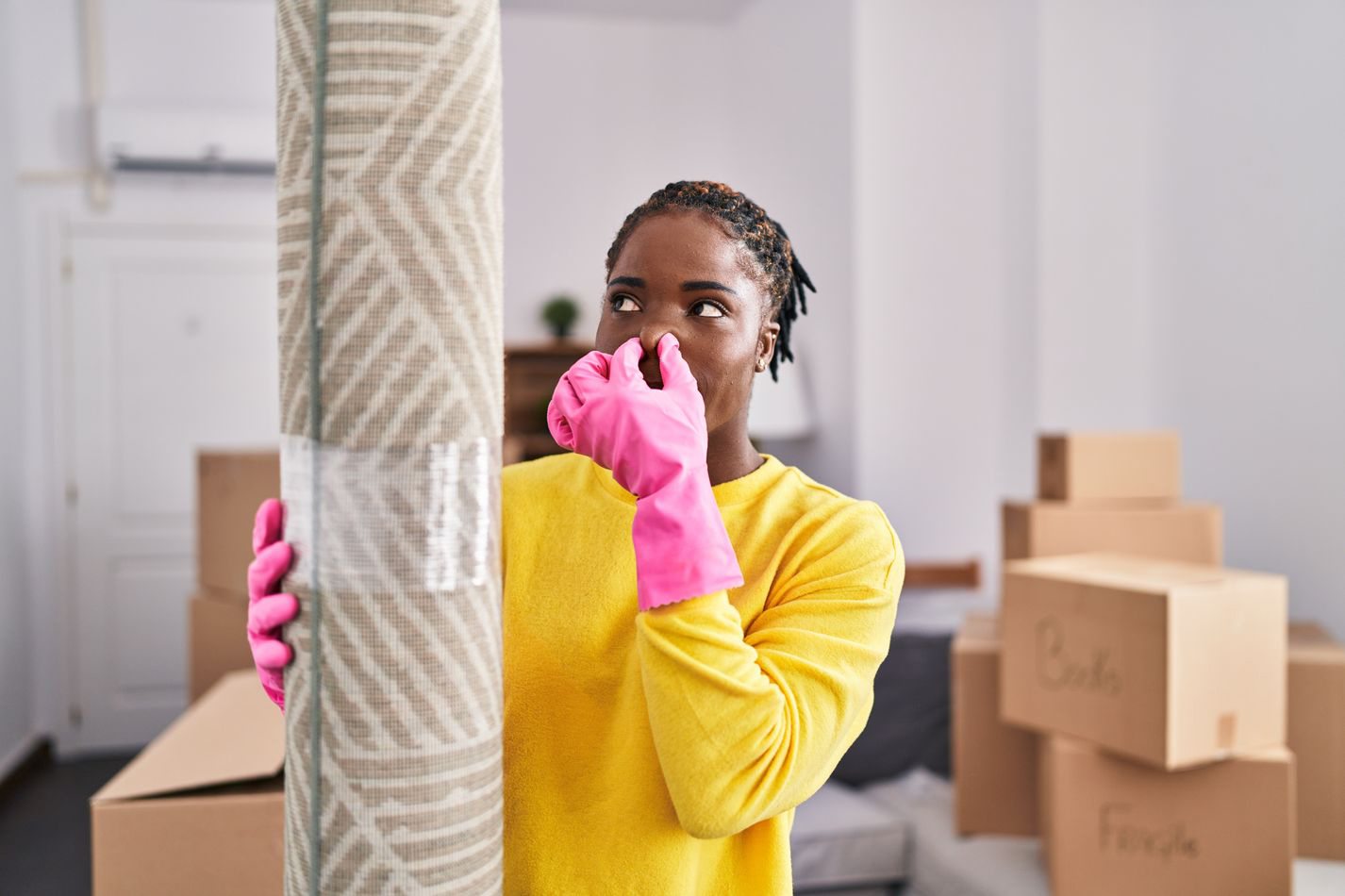 Spending time, effort, and money deep cleaning your carpet just to have it smell like mildew afterward is extremely annoying. Getting the necessary cleaning supplies,
Read More »