Carpet cleaning is a back-breaking task. A carpet's thick layer makes it hard to ensure that it's cleaned all the way through. Often, you have to use special carpet cleaners and tools to clean your carpet thoroughly.
Not everyone has the time and energy to do all this. Enter us! We at Carpet DryClean are a North Carolina-based professional carpet cleaning service specializing in dry carpet cleaning.
While professional carpet cleaners can do the majority of the work, you can still play a part in ensuring that your carpet is squeaky clean—this blog outlines steps to take before getting your carpets cleaned.
Move Your Furniture Aside
Before getting your carpet professionally cleaned, the first thing you should do is move your furniture out of the way. Your couches, chairs, coffee tables, and any other pieces of furniture may get in your carpet cleaner's way.
Furthermore, this makes it easier for your carpet cleaner to move around during the process. In some cases, carpet cleaners are not allowed to touch your furniture, depending on a company's operation protocol.
(Note: We at Carpet DryClean move your furniture  free of charge as a part of our services.)
Vacuum Your Carpet
Another thing to do before getting your carpets cleaned is to vacuum them. Vacuuming your carpet is not necessary. However, the carpet cleaner may ask you to run the vacuum one time over your carpet initially.
(Note: You do not need to vacuum with us at Carpet DryClean, and we take care of all the vacuuming and cleaning).
This will help remove any small particles of dirt, dust, or debris that may be hiding between your carpet fibers. Vacuuming the carpet before a deep clean ensures optimal results and clears your carpet of any small debris that could intervene with the carpet cleaner's work.
Store Valuable And Fragile Items
If you have any valuable or fragile items in your home, it is best to store them away before the carpet cleaning service arrives. This includes jewelry, vases, picture frames, and fragile lamps.
This is for precautionary measures in case the item falls and breaks during the process. Carpet cleaning requires a lot of movement, and the cleaner may accidentally nudge one of your expensive pieces of furniture and break them.
Although many carpet cleaners are highly reliable, it's better to be safe than sorry. Taking care of your valuables before the cleaning service arrives will give you peace of mind and protect your belongings.
Secure Your Curtains And Drapes
Securing your curtains and drapes is another vital thing you must do before the carpet cleaning services arrive.
Carpet cleaners typically use a lot of products during the cleaning process. Leaving your curtains or drapes hanging could leave them heavily affected, potentially damaging your curtain's fabric.
Hanging them or even removing them altogether would ensure that your beautiful curtains are spared from fabric damage.
Protect Your Walls
Your walls are another thing you should protect before the carpet cleaners arrive. Products could splash up on your walls while the cleaners work and leave evident water spots or stains.
To avoid this, you can put a plastic sheet, tarp, or anything to cover the wall and protect it from potential damage. Covering your walls will also make it easier to clean up after the carpet cleaners finish their job.
Keep Your Pets And Children Away
Keeping your fur babies or your actual babies secured should also be your priority before the carpet cleaning services arrive. Carpet cleaning solutions may be harmful to your pets and children if they come into contact with them.
In addition, keeping them away will also prevent any accidents from happening. Having your children waltz around a damp and slippery floor could result in injuries or mess up the cleaner's process.
Save The Carpet Cleaning Service a Parking Space
Last but not least, save the carpet cleaners a parking space. Before the carpet cleaner can start their work, they need to have a space where they can park their car and prepare their equipment before entering your house.
Although this reminder might seem a bit straightforward for most people, it's not always the case. Often, homeowners forget to save a spot for the cleaners, which could cause a significant delay in service.
Call Carpet DryClean Today!
Now you know how to prepare your home before a professional carpet cleaning and all the things to do before the carpet cleaner arrives. This might seem like a strenuous amount of preparation for a carpet cleaning service. Still, it helps achieve the best result; we've got your back if you seek an expert carpet cleaning service in North Carolina!
In fact, most of what is listed above are included with your service with us.
Carpet DryClean is your professional carpet cleaning service that will give your carpets the deep clean they need and deserve without any drying time! Learn more about our unique dry carpet cleaning method here.
Our expert carpet cleaning service and process use only eco-friendly dry carpet cleaning solutions to ensure a deep and satisfying clean. Call us now at (919) 878-0748 to schedule your first of many appointments with our team!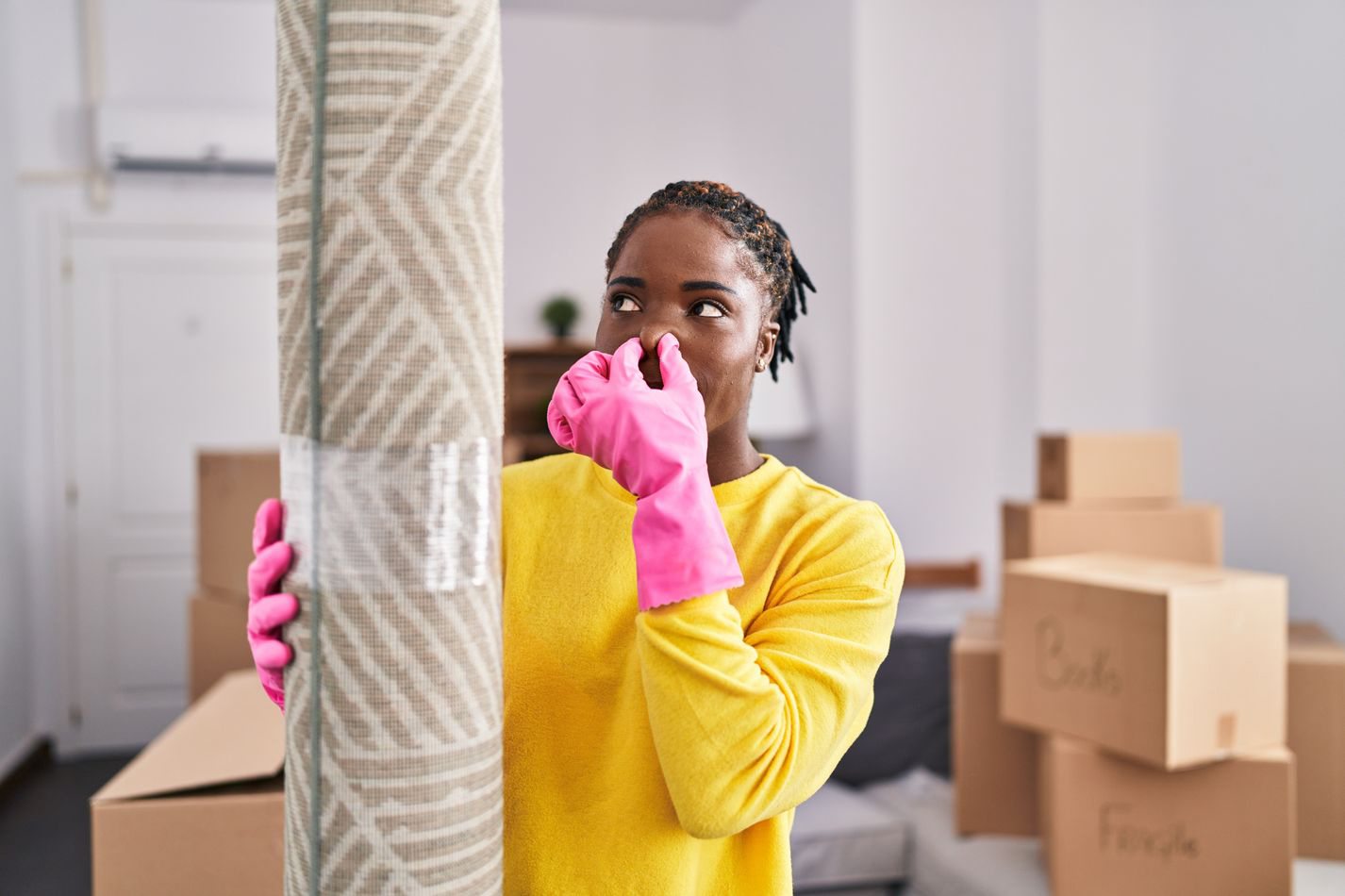 Spending time, effort, and money deep cleaning your carpet just to have it smell like mildew afterward is extremely annoying. Getting the necessary cleaning supplies,
Read More »